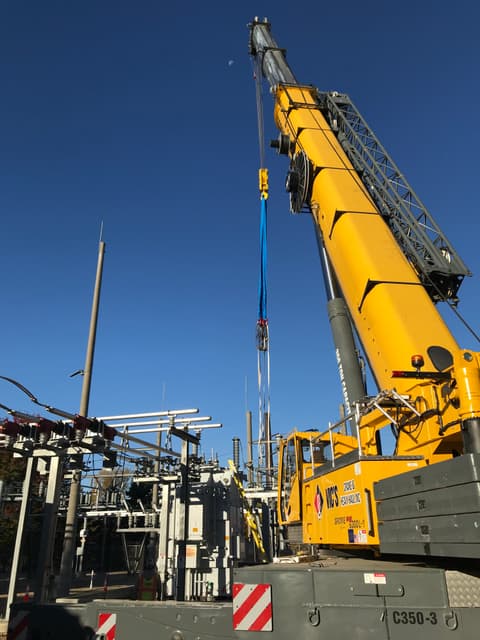 In early October, Vic's took on the challenge of moving a transformer from Burnsville, MN to a new substation in Inver Grove Heights, in the East metro. When moving a load as heavy and tall as this one, planning is crucial and details matter: Vic's conducted an extensive route survey to find the most efficient and practical route while still keeping everyone's costs down.
The nine-person team of operators, drivers, and linemen started out in Burnsville by lifting the 18' 4" high, 76,600-pound transformer onto a lowboy trailer using our Grove GMK6300L-1 with 78,000 pounds of counterweight. Navigating oversize cranes into the small substations presented a challenge, but Vic's has the experience to get where they need to be. After securing the cargo, they hit the road. Even though their destination was 15 miles away under regular circumstances, their route survey found that they would need to travel a total of 64 miles in order to haul the transformer without hitting any power lines or traffic lights.
Along with planning, communication was key. Each member of the nine-person team had a crucial role to play in the safety and success of the job, especially the escort, the driver, and the line workers tasked with lifting power lines when needed.
Vic's was chosen for this job due to their expertise with this type of project and competitive bid. Vic's hauls oversized loads every day of the week and moves tall items like this transformer on a fairly regular basis. In fact, even for a tricky job like this, it only took a couple of days to go from route survey to permit applications to getting the transformer to its final destination.