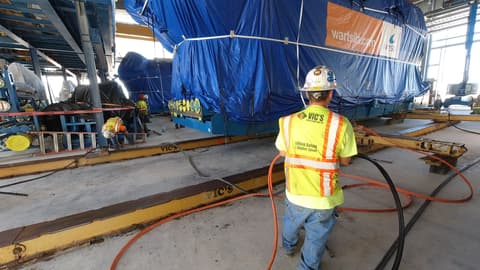 Transporting, assembling, and placing objects on a foundation doesn't sound complicated, but the task becomes quite a feat when it involves engine blocks weighing almost half a million pounds. Recently, Vic's helped complete a project for Central Iowa Power Cooperative (CIPCO), that involved just that. The heavy haul project involved the transportation, assembly, and placement of three engine blocks, each weighing 445,000 pounds at the CIPCO's Summit Lake Generating Station.
For offloading the engine blocks from the railway in Creston, Iowa, Vic's used a 20 axle line Goldhofer trailer and 500-ton Gantry system. In order to make the move less risky on local roads, Vic's reduced axle bearing pressure by adding six holland dollies to the trailer,.. In addition to the engine blocks themselves, Vic's also offloaded and staged other engine components such as the common base (85,000 pounds), turbo charge module (58,000 pounds), and charge air receiver (46,000 pounds). The engine parts were carefully assembled with a 500-ton gantry and 14 axle line Goldhofer self-propelled module trailer in a 66'x100' engine assembly tent. Then, they were moved into the engine hall. When fully assembled, the engines weighed 654,000 pounds!
This transport was made more complex by county and city permits required to move the super heavy loads. The crew at Vic's also needed to be able to multitask, installing one engine into the building while another was still being built. This ended up saving the project at least three days of time.
The onsite portion of the move lasted about six weeks, but planning for the project began over a year ago, in May of 2019. The crew size varied from four to 12, depending on the stages of the project, and as always, safety was a priority for everyone involved. The work of Vic's staff and the powerful engines should keep power flowing through central Iowa for decades to come.