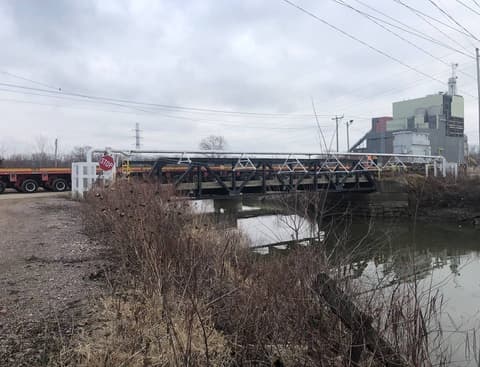 While crossing a creek on a haul in Iowa, Vic's employees were presented with a bridge weight limit challenge that required them to think outside the box, or in this case, the bridge. The payload was a transformer that when combined with the weight of the heavy haul trailers reached more than 200 tons, but they needed to cross a bridge with a weight limit of only 40 tons. It was time to get creative.
Several of Vic's staff members worked on a solution with project stakeholders from ITC and Alliant Energy for a way to safely cross the bridge. To make the difficult move, Vic's used three trailers, one 26-axle trailer and two 6-axle trailers. The two 6-axle trailers were maneuvered so one was on each side of the bridge, sitting parallel to the 26-axle trailer, which spanned the bridge itself. The transformer was then moved across the deck of the trailers using a hydraulically activated push slide rail system. The placement of trailers and the sliding of the transformer helped split the weight between the trailers and the bridge so that the haul remained safely under the 40-ton bridge weight limit.
The bridge transfer took 12 employees to complete and was a unique addition to Vic's hauling repertoire. Bridges often turn out to be limiting factors for affordable travel of super heavy loads, but for this crane and heavy haul company it was just another day at the office.