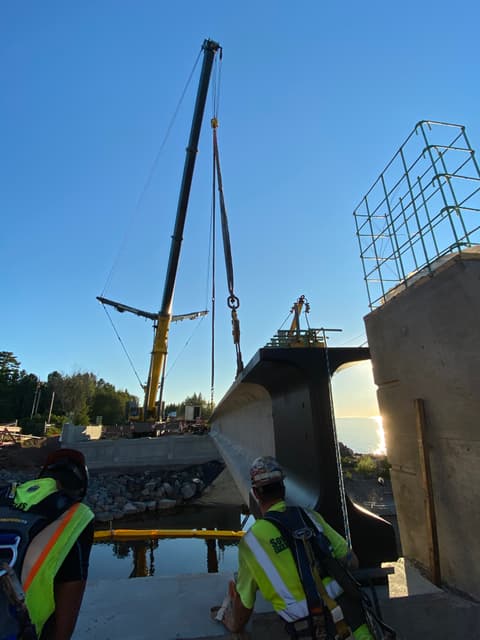 The Old North Shore Scenic Drive running between Duluth and Two Harbors is one on the most picturesque drives in Minnesota. Each year countless visitors travel the route to take in the majestic views of Lake Superior, crossing the nearly 100-year old French River Bridge along the way. This summer the St. Louis County Public Works Department began a project to construct a new concrete beam single span bridge – and a team led by our Rosemount office with resources from both our Hibbing and Twin Ports branches were called in to set the bridge girders.
Although Vic's has plenty of experience with bridge projects, we still needed to be careful handling the massive bridge girders that measured 103,500 pounds and more than 121 feet long while completing the job on a tight time frame. Our GMK 7550, 550-ton crane was the perfect rig for the job. Due to Grandma's Marathon being canceled this year, the project was able to start two weeks sooner than originally planned. With our extensive fleet, having the right crane available for the adjusted timeline was no problem.
The new French River Bridge is expected to be complete in mid-November. Visitors will enjoy other improvements to the adjacent wayside rest area including an ADA accessible overlook structure, increased parking, and a sidewalk crossing the new bridge.
Vic's has extensive experience on bridge projects, including recently completing the I-94/I-494/I-694 bridge project in Woodbury, MN, the Highway 73 bridge in Hibbing, MN, and the Highway 4 and County Road 5 bridge in Fairfax, MN.