A major aspect of the work Vic's Crane & Heavy Haul does on a regular basis is transporting incredibly large objects from water to land and then overland. Often, major pieces of equipment come to us by ship or barge to be delivered to their final destinations. It's not uncommon for challenges to arise throughout this process, and such was the case when we were tasked with moving massive rings used in the mining industry in Michigan. Luckily, our team's experience meant we were ready.
Two thrust rings and two riding rings needed to be transported from ships in Escanaba, Michigan, to a site 70 miles away at the National Mine in Ishpeming, Michigan. The heaviest of the rings weighed in at more than 250,000 pounds. Each ring was just over 30 feet in diameter.
While Vic's initially bid the project as a straightforward hauling job, flooding in Escanaba during the spring of 2018 made the situation more complex—damaging a bridge that had been planned as part of the haul route.

Vic's then worked with our client, Martin Bencher Group, and local authorities to develop a plan B. After unloading the two sets of rings from their ships onto our Goldhofer trailers, we offloaded them to a nearby location while a new plan was developed for the overland haul. Faced with a choice between waiting for an indefinite amount of time until the bridge repair was complete, or using our experience and know-how to meet our goal, we chose the latter option.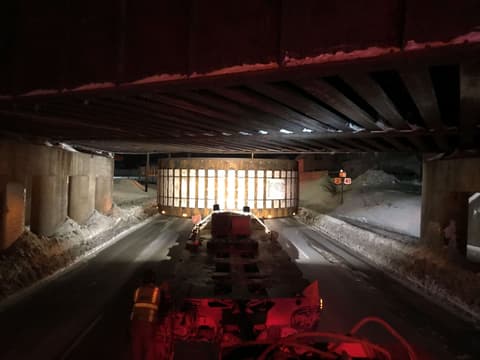 We worked closely with the Michigan Department of Transportation to obtain the appropriate permits to carefully haul the rings through the bridge construction site. Due to the wide diameter of the rings taking up most of the road, our only option was to operate at night—from midnight to 5 a.m.—with the help of a police escort. Once safely through the construction site, the load was home-free and was delivered to the National Mine.
The Escanaba project just goes to show the importance of having not only the brawn to get the job done but the brains to get it done right.