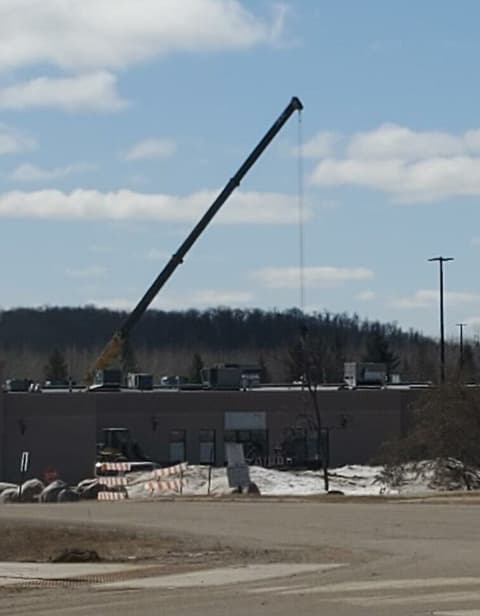 The climate in Minnesota varies widely from summer to winter. It's important to make sure you can provide your customers with comfortable shopping temperatures all year round. For this reason, Vic's Crane and Heavy Haul was hired by Range Cornice Heating and Sheet Metal to provide crane services to move new heating and cooling units to Iron Range shopping hub, Irongate Plaza.
The lifting job was fairly routine and took approximately two hours to complete. Vic's utilized a Grove 150-ton all-terrain crane to remove three old heating and cooling units and replace them with new ones. Each unit weighed around 2,500 pounds.
There were two main challenges for this lift. The first was that due to the location of the units on the roof, the crane operator was unable to see the rooftop area from his position on the ground. Vic's addressed this issue by placing another employee on the roof and using two-way radios to communicate and coordinate the lift. The other challenge was that Vic's staff needed to be mindful of preserving the pavement in the plaza parking lot, which was thawing out from a long winter. Additionally, to make the lifts, the crane needed to be set up in two different locations throughout the move.
Vic's employees successfully completed the removal and replacement of the heating and cooling units with no issues. So next time Irongate Plaza is abuzz with customers, they'll be as comfortable as can be.